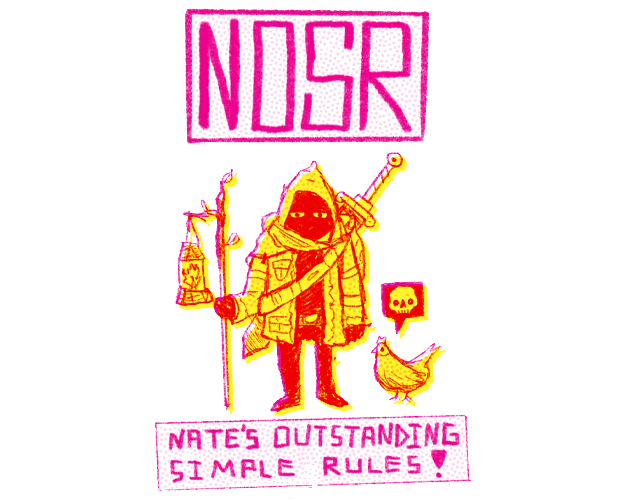 NOSR
NOSR is a simple tabletop rpg that fits in your pocket!
I ran a game for my niece the other day not using any specific rules just the sort of default osr-ish rules in my head. So I decided to write those rules down. They are not original. 3d6 stats, d20 roll under. Basically the Black Hack but sloppier and less complete. I wrote it in pocket mod format on procreate using this template: https://mr-matthew.itch.io/one-page-zine-template-procreate.
One sheet of paper folds into a book with character sheet and rules included so you can give one to each player. for info on how to fold them go here: https://pocketmod.com/howto

Some things not covered in the rules but probably should have been are:
Monsters. Stats need for monsters are Energy (basically HP) and Damage (usually d6).
Advancement. Let PCs level up every once in a while. They can raise an ability score by one (max 18), or learn a new special.

Included is CAVERN OF THE WORM, a little pocket dungeon for NOSR!
GET IT CHEAPER ON PATREON!
This and much more is available for as little as $2 a month at Patreon.com/HPS
Purchase
In order to download this game you must purchase it at or above the minimum price of $5 USD. You will get access to the following files:
NOSR Individual Pages SPREADS.pdf
2 MB
NOSR Individual Pages.pdf
2 MB
Cavern of the worm.png
3 MB
Cavern of the worm.pdf
3 MB
Comments
Log in with itch.io to leave a comment.
Loving this little book, and really appreciate the addition of the Cavern of the Worm, especially the teeny map.